Charlotte is 21 and campaigns to promote body positivity and raise awareness for hidden illness.
Charlotte has Ehlers Danlos Syndrome and she made the decision to have surgery for an ileostomy bag. It was a delight to hear how Charlotte said her confidence actually grew since her surgery, so many people might have lost confidence over something such as this, but Charlotte sets the example of staying strong and confident. Her positive attitude is really inspiring!
She contacted me about a portrait session as she wants to potentially become an influencer to push these issues she is passionate about and help others.
I don't want to tell her story on her behalf. You're better to read more from her at @charlotteamylouise and she has even been part of a video about it.
The Shoot
We had many different set ups and looks ranging from soft, light coloured sets to a more dramatic darker set. We went for a striking pop of colour for the first look with the dark background.
Charlotte's red top looks so striking against the dark background!
Lighter & Brighter
Here is one of the softer lighter set ups. We also photographed some natural no make up headshots, profile and full length shots against the same background as below (and a white one so she had plenty of choice) for Charlotte to use when applying to model agencies. These were photographed before Amelia, the professional make up artist, did Charlotte's make up ready for the rest of the session. Below are the photos taken once Charlotte had her make up done.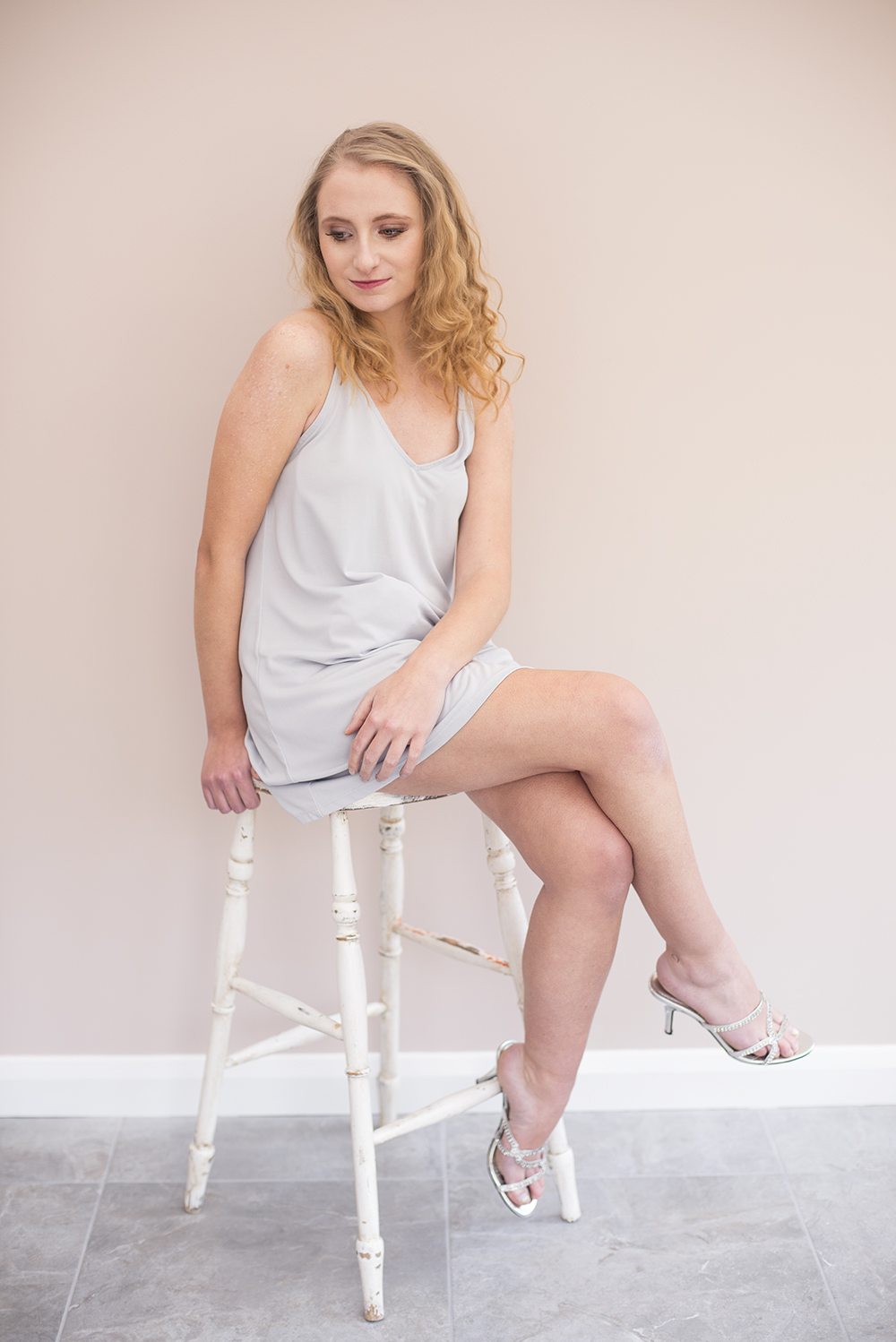 A very soft pretty set up for a different look.
Charlotte wanted to make sure she had some photos with her ileostomy bag on show. Many people have illnesses that may not physically show to us which is the same for Charlotte depending on what she is wearing.
Getting Creative
I also wanted to do a more creative look so Charlotte had a a real variety of photos to choose from. This is a beautiful almost painterly feel portrait set with all the soft fabrics and textures. The light has caught Charlottes hair as well which almost seems to make it glow.
Lots of fabric, a beautiful tulle dress & glowing light.
After the portrait session I ran through some advice and modelling tips on were to go next based on my experience in the industry. I tailor this to each person so for Charlotte it was more about being an influencer or lifestyle model as that is her interest.
Charlotte's had such a strong start with so many opportunities already! I wish Charlotte the best of luck with her adventures going forward.
Are you interested in having a natural light indoor portrait session?